Robaxisal Extra Strength
Contains an effective muscle relaxant (methocarbamol) plus the pain relief of ASA (acetylsalicylic acid).
Robaxisal Extra Strength contains two active ingredients: 500 mg acetylsalicylic acid (ASA) to relieve pain and 400 mg methocarbamol to relax tense back muscles.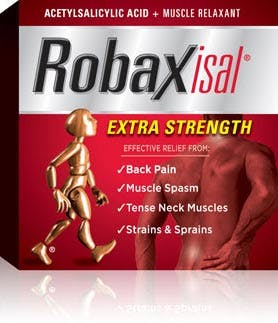 Take 2 caplets with a glass of water or milk, every 6 hours. Do not take more than 8 caplets in 24 hours. Use the smallest effective dose. Use only on the advice of a doctor.
Active Ingredients:
Each caplet contains Methocarbamol 400 mg, Acetylsalicylic acid 500 mg.
Inactive Ingredients:
Corn starch, hypromellose, magnesium stearate, methylcellulose, modified starch, polyethylene glycol, povidone, sodium lauryl sulfate, sodium starch glycolate, stearic acid.
Keep out of reach of children. This package contains enough drug to seriously harm a child. In case of overdose, call a Poison Control Centre or get medical help right away. Do not give to children and teenagers under 18 years of age who have chicken pox, cold or flu symptoms.
ASA is reported to be linked to Reye's Syndrome, a rare but serious illness.
Stomach bleeding warning: ASA may cause severe stomach bleeding. Stop use and get medical help right away if you feel faint; vomit blood; have bloody or black stools; have stomach pain that does not get better. Do not take other products containing ASA, salicylates or NSAIDs while taking this product.
Allergy alert: ASA may cause a severe allergic reaction including skin rash or hives; face swelling; wheezing; trouble breathing. If an allergic reaction occurs get medical help right away. Do not use if you are allergic to ASA, salicylates or other NSAIDs; have asthma brought on by ASA, salicylates or other NSAIDs.
Do not use if you have or have had an ulcer; are prone to bleeding; have liver or kidney disease; are in the last trimester of pregnancy; use methotrexate 15 mg/week or more.
Ask a doctor or pharmacist before use if you have stomach problems such as heartburn; asthma; high blood pressure; heart disease; gout; severe anemia; any other serious condition; take 3 or more alcoholic drinks every day; take any other drugs (especially acetaminophen; diuretics; blood thinners; methotrexate; pain relievers; steroids; drugs for depression, seizures, arthritis, diabetes, or gout); take sedatives. Ask a doctor or pharmacist before use if you are 60 years or older; pregnant, trying to get pregnant or breastfeeding; having surgery in 5 to 7 days.
When using this product: Drowsiness, dizziness, nausea or light-headedness may occur; do not drive or operate machinery; do not drink alcohol.
Stop use and ask a doctor if you have any hearing loss, ringing or buzzing in the ears; an allergic reaction (get medical help right away); redness, swelling, rash or itchy skin; any unusual symptoms, or if your symptoms worsen or last more than 5 days.