Robaxin
Contains an effective muscle relaxant (methocarbamol).
Robaxin contains one active ingredient: methocarbamol to relax tense back muscles. Methocarbamol is a muscle relaxant that reduces muscle spasms.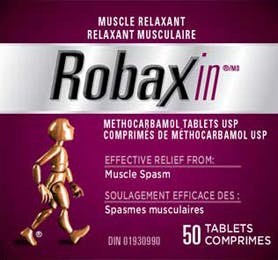 Adult Initial Dosage:
3 tablets, every 6 hours. Do not exceed 12 tablets in 24 hours.
Adult Maintenance Dosage:
2 tablets, every 6 hours. Do not exceed 8 tablets in 24 hours.
Active Ingredients:
Each tablet contains Methocarbamol 500 mg.
Inactive Ingredients:
Corn starch, magnesium stearate, povidone, sodium lauryl sulfate, sodium starch glycolate, stearic acid.
Keep out of reach of children. In case of overdose, call a poison control centre or get medical help right away.
Ask a doctor or pharmacist before use if you have kidney or liver disease; take drugs for depression, sedatives or any other medication; are pregnant or breastfeeding.
When using this product, you may experience drowsiness; dizziness; light headedness. Do not drive or operate machinery; do not drink alcohol; do not take more than the recommended dose unless advised by your doctor. Nausea may occur.
Stop use and ask a doctor if symptoms worsen or last more than 5 days; if you get a rash or itchy skin; if any unusual symptoms occur.